We share the traffic report for technolism each month. I am posting the traffic report for the last month, February 2011 a bit late as earlier I thought of not sharing it, because this month the traffic has dropped. 🙂 But then, at last I finally decided not to skip it and take it as a challenge so that next time I do not have to post a traffic report which shows a decline in the traffic.
What can be the reason for traffic to technolism this month? Well, I know the reason – I have been quite busy with my full time job last month and was able to post only 10 posts in the month of Feb 2011. Also, the activity of commenting on blogs was also not on much brighter side.
Hmmm… lets get to the point now and talk about the stats.
Traffic Stats Overview: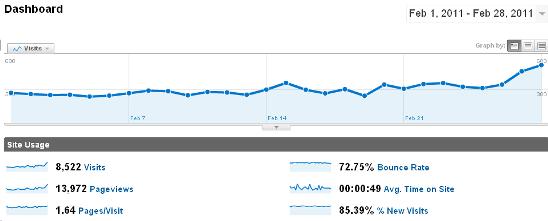 Visits: 8,522 (-22% over last month)
Page Views: 17,765 (-21% over last month)
Traffic Sources:
Like previous months, the trend has been the same for the sources of traffic with most of the traffic coming from organic sources, search engines.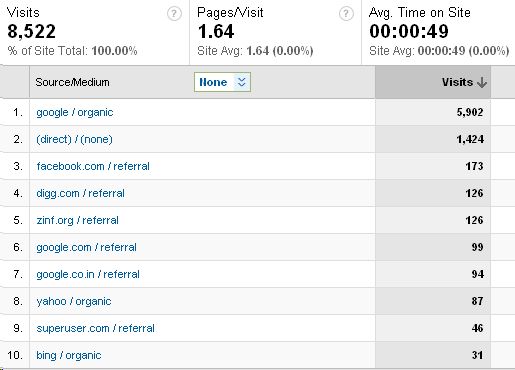 As you can see, Google is leading the race of the incoming traffic on Technolism. The only change in the sources is the entry of Bing to the Top 10, though a very less amount of traffic coming from the Search Engine from Microsoft.
I am taking the drop in traffic for this month as a challenge and will try to improve the numbers for March 2011. Lets' see how things go. 🙂
Do share with us the traffic stats for your blog for the month of February?