WordPress Team just now announced the next major upgrade of the leading blogging CMS – WordPress 3.4 dubbed as "Green" in honor of guitarist Grant Green.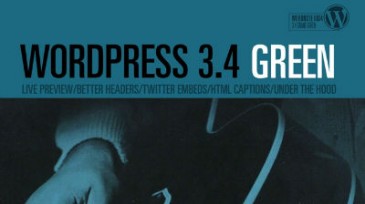 WordPress 3.4 "Green" includes significant improvements to theme customizations, custom headers, Twitter embeds, and image captions. For the first time, WordPress team has put up a a short clip which introduces you to the top features you'll want to know about.
Main Features of WordPress 3.4 "Green"
Theme Customizer – The main highlight of WP 3.4 is the theme customizer which allows you to play around with various looks and settings for your current theme or one you're thinking about switching to without publishing those changes to the whole world.
For WordPress themes that support it, you can change colors, backgrounds, and of course custom image headers. Technolism is powered by Thesis and currently there are not many options available to customize Thesis – maybe they will plan something for future release to take the most advantage of this new wordpress feature.
Custom Headers – This feature allows you to use images from your media library to populate custom headers, and choose the height and width of your header images.
HTML support to image captions – WP 3.4 adds basic HTML support to the caption field in the image uploader. This allows you to add links — great for photo credits or licensing details — and basic formatting such as bold and italicized text.
Embed individual tweets in posts – With this feature, WordPress extends its embed support to include tweets: Just paste a tweet URL on its own line in the post editor and it turns into a beautiful embedded Tweet. The embedded Tweet includes action links that allow readers to reply to, retweet, and favorite the tweet without leaving your site.
Not only Twitter, this feature works with some more sites as well. Here is a list of few more sites on which WP 3.4 emebedding works.
Some Dev specific upgrader - There are also 100s of dev specific under-the-hood that WordPress 3.4 comes with. Some of the main features are faster WP_Query, custom content types and taxonomies support for XML-RPC, themes, and custom header APIs, and significant performance improvements in WP_Query and faster translation system.
WordPress 3.4 "Green" upgrade seems quite exciting to me – do share with me  your thought on this upgrade and which feature do you like the most.