How do you take an HD quality screenshot of your iPhone or iPod touch without downloading any screen capture application for iPhone or using an external camera? This was the question on my mind some time back when I ended up checking the information about this on the official Apple iPhone Tips page.
Check out our last post on PowWowNow Apple iPhone App review.
I am sure many of you Apple family members might already know how to take the screen capture of your iPhone, this article is for the ones who are a bit dumb to know this already (like me :P) or are not the proud owners of Apple iPhone till now. I am giving you this tip in advance so that you are left out in the crowd unknown to this simple piece of information. So, let's proceed.
There's no dedicated  "Print Screen" button on an iPhone as such, but the simple thing that you need to do to capture a screen grab of your iPhone screen is, press and hold down the home button and then press the Sleep/Wake button on top of the iPhone to do the magic. The screen flashes and guess what, You are done.
The picture of your screen appears in your Camera Roll which you can transfer to your computer or laptop and then do whatever you want with it, like I took  the screenshot and put it below for you to have a look 😉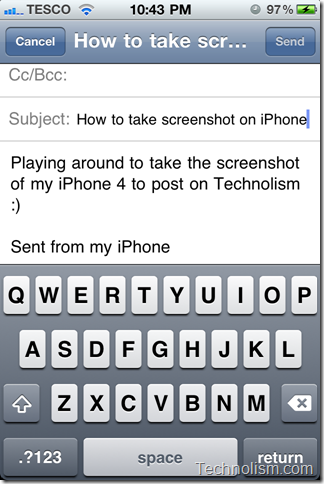 The same trick can also be used for taking a picture of the iPod Touch.
Also Read: How to copy Nokia Phone Contacts to your iPhone?
Below is a quick video explaining how you can capture a picture of your iPhone screen:
Hope you like this trick. Did you know this one already. Do share your views with us in the comments section below. Stay tuned for more tips and tricks for iPhone and other Apple devices.