Google+ was launched a few months back when it was a limited invite-only service. Later in September, it was open to the public. Unlike Facebook, Google+ did not allow businesses to have a Brand Page till now, and a few businesses who had created a profile as a personal account were banned by the Google+ team.
Finally, Google launched Brand Pages on Google+ which gives a go ahead to brands and businesses to create their own brand / product pages. We created one for Technolism, do check out Technolism Google+ Brand page here.
In this post, I am going to show you how to create a Google+ Brand Page for your business.
Step 1: Create Your Google+ Brand Page
Log in to your Google Plus account and go to http://www.google.com/+/business/ and click on "Create Your Google+ Page" button.
---
Step 2: Select Your Brand Category
When you click on Create Your Google Plus Page button in Step 1, you will be taken to the second screen where you can choose the category of your brand / product / website / blog.
Screenshot!!!
You can choose from the below options:
Local Businesses or Place
Hotels, restaurants, places, stores, any other local services
Product or Brand
Cars, Electronics, Financial Services that are not local
Company, Institution or Organisation
Companies, organisations, non-profits, institutions, etc.
Arts, Entertainment or Sports
This category is for books, bands, movies, TV shows
Other
You may list your business here if you can't fit in any of the categories above.
We entered the information for Technolism as below. If you also have a blog or website, select the Product or Brand Tab and fill in the details like below.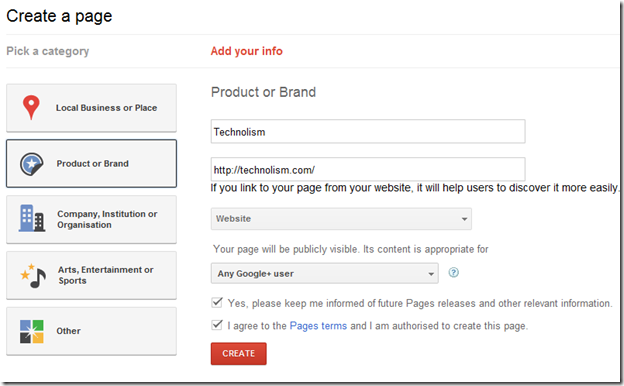 ---
Step 3: Add a Tagline and Profile photo for your Brand
Now, you simply need to add a short and simple, yet catchy Tagline for your business and a Profile photo.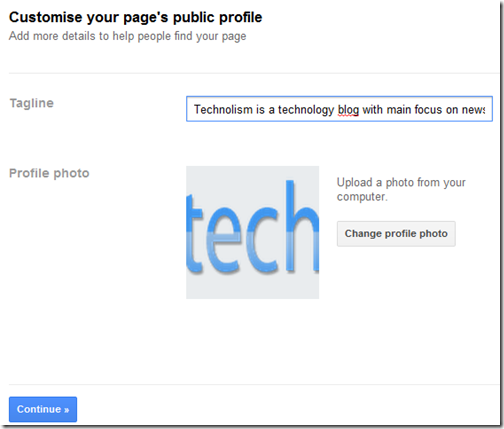 ---
Step 4: Spread the word
On the next screen, you get the option to let people in your Circles know about your new Brand Page for your business. Click on Finish button. Do a small other tweaks on the Brand Profile Page and you are done!!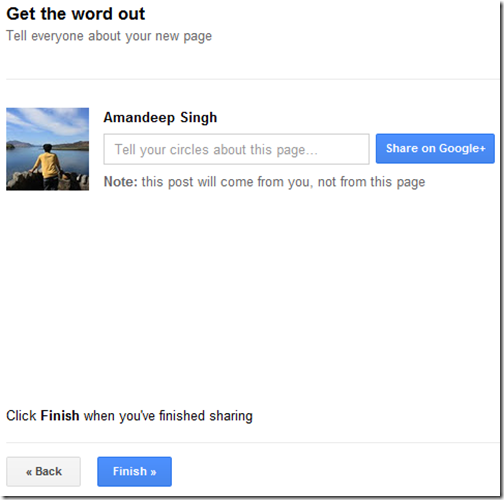 ---
Step 5: And, You have got a Google+ Brand Page now
Once you click on Finish in the above step, your G+ Brand Page will created with a URL which looks something like: https://plus.google.com/b/101354168364454798926/
Below is how the Technolism Google+ Page looks like: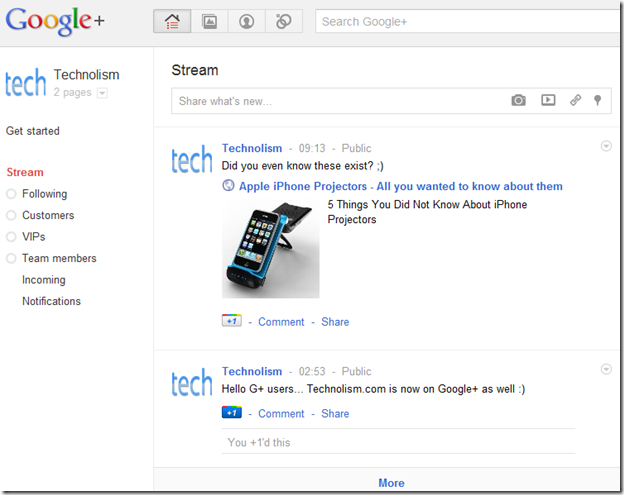 I hope you liked this simple tutorial which would help you create the Google+ Brand page for your product / brand / website or blog. Do share this with your Facebook, Twitter and Google+ friends. Stay tuned for more news and tips on Google+.
In the meantime do not forget to add us to your circle on Google+. We are also on twitter now; do follow us @technolism.