Here comes another interesting game, once again from Google. This time in the form of a cube, which is a game about Google Maps. Seems like Google is getting quite interested in the gaming segment lately. Yesterday, we wrote about the Zerg Rush Easter Egg from Google which allows you to show your gaming skills within the Google Search Engine window and today, Google revealed a fun and time killing game – Cube.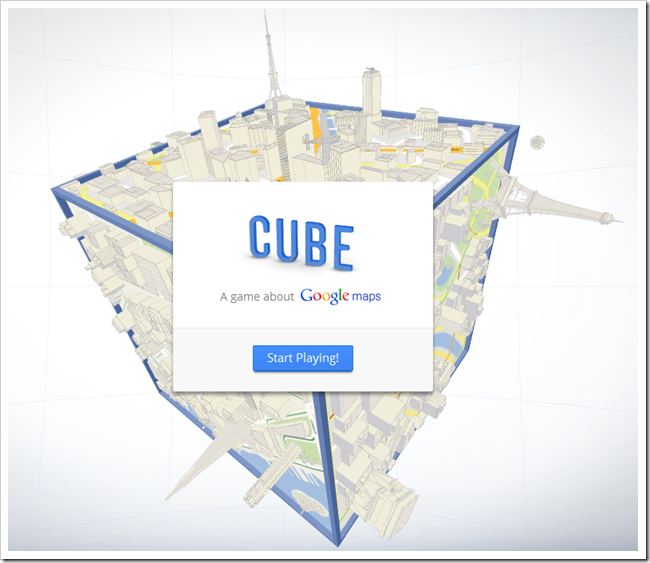 Google released a teaser video about this game back in January which promised that the game is going to be launched in February 2012. Feb passed by and there was no news about Cube being launched. It was launched only yesterday rather silently at www.playmapscube.com.
Cube is basically exactly like a classic game of Labyrinth – instead of guiding a ball through a wooden maze, you guide the blue ball (the blue marker in Google Maps) through a small section of Google maps using your cursor. And, unlike Labyrinth, its surprisingly addictive and you get a chance to roll a marble through the greatest cities on earth.
The game is quite addictive and could be your favourite way to pass time when your boss is not around. I have played it quite a few times today and I must say, it is quite interesting which you can play from anywhere as long as you have got internet connection.
Cube game about Google Maps
does not need you install anything on your computer.
In total, there are eight levels in Cube, which covers different cities and locations around the world. Each of these levels encourages you to take advantage of Google Map's features to find the most optimal route.
The Cube Game for Google Maps starts with a basic level and then becomes a bit complex as you proceed. My favourite levels are level 7 and level 8. In Level 7, you can go indoors and need to find your way through the Mall of America and collect all of the Google Offers on each of the four floors.
On Level 8, the difficulty level increases where your knowledge of the previous levels helps to find your fastest route to your objective in the ever changing cubic city. Level 8 mashes the cities together, Rubik's Cube-style.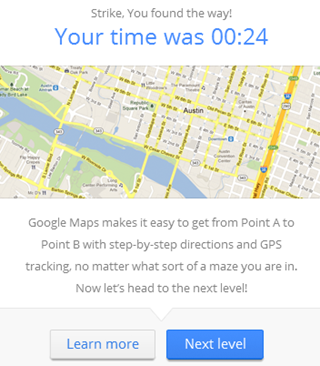 Your progress is also timed, giving you a totally valid excuse to play it again and again as you challenge your friends. I have played it a couple of times since morning and my best score has been timed at 05:54 minutes whereas the best score for Cube at the time of writing this is 02:45 minutes .
Have you tried the gamified Google maps? If you haven't point your browsers now to Google Maps Cube and have fun!
[Cube, via Mashable]