Today is Thomas Alva Edison's 164th Birthday and to celebrate the occasion, Google has created a brand new animated Google Doodle.
The latest Doodle from Google shows some of Edison's most famous inventions which and has been animated using a series of 22 jpeg images.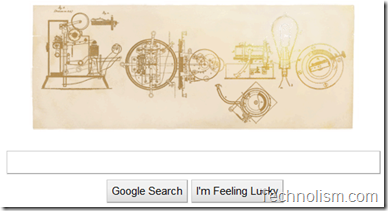 The normal Google logo has been replaced with this animated logo in which a blinking light bulb is shown in place of the letter L, the incandescent light bulb which was one of Edison's most important inventions and revolutionised people's lives.
The Doodle also has moving belts, a flashing light bulb and other moving elements which is done in an innovative way which gives a nostalgic look – a very appropriate and deserving tribute to an awesome personality who gave birth to the earliest versions of today's modern marvels.
Google has been coming up with outstanding interactive Google Doodles in the recent past. Check out some more Google Doodles here which we shared with you in the past months.
Have you checked out this latest Doodle from Google? If not, go to the Google homepage and have a look. Do share your views with us :).