Google is out with its new "web spam algorithm" code-named Penguin Update and the bloggers throughout the world are facing the consequences. I was however not much aware of this algorithm and its effects on our blogs and so googled about it. I would like to share with my friends what I got to know about it.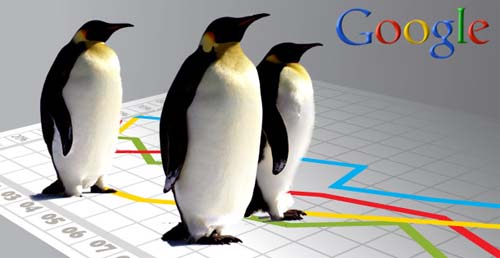 I basically had three questions running in my mind when I started googling about this new algorithm update by Google.
What is this new algorithm Penguin update all about?
How will it affect my blog?
What Should I do to recover from Penguin Update Affect ?
Google Algorithm
When we want to search for a particular thing on any of the search engines, we put the closely related keywords on the search tab. The search engines then show the results according to the page rank given to the websites. The websites with higher page rank will appear in the top results. The search engine ranks the websites on a set algorithm which is based on the placement of keywords in the content, quality of content and the backlinks for the website. More the quality backlinks, higher is the page rank.
People use search engine like Google, Bing, and Yahoo to search for a particular data for which they put keywords closely related to that data. Search engine show results according to the rank given to the sites which they assign on the basis of numerous aspects such as keywords, backlinks (quality and quantity) and of course the quality of content. More the keywords and quality backlinks are, higher is the rank of the website and higher are the chances of it appearing on the front page of search results.
Algorithm is a mathematical program or database which is used to rank the websites and when there is an update in this program it definitely brings some good or bad to the websites.
What is Penguin Update and Its Affect?
There are over 366,000,000 websites spread on internet and everyone is trying hard to stay on the top. Bloggers apply many tips and tricks to get more and more traffic to their websites and these tips and tricks include getting more of the backlinks. Google terms excess of this activity as Spamming and the new Penguin update is all about spamming links. The websites and blogs having more of the backlinks and are doing excessive SEO are the first ones to be affected by this new Penguin Update. Google will now remove the websites leaving more of the spam links over internet to get traffic. I guess the people having online marketing websites will be affected the most as they have numerous back links.
Affect Of Penguin Update on Blogs
Google is on its mission to clean the junk content from internet. The websites offering useless content are the first ones to get affected.
Ranking of the websites will drop down drastically if there are more of spam links or if excessive SEO is done. [Also Read: Five Typical SEO Misconceptions]
Good and useful websites may get a higher rank with this update.
Organic search results will improve for the websites having original and useful content.
Keyword stuffed content will have no place in search engine results.
What Should I do to recover from Penguin Update Affect?
If you are among one of the millions of websites affected by Google Web Spam Algorithm Penguin Update, you can follow these steps to recover from the Penguin Update.
Avoid Keyword Stuffing:

If you are stuffing the keywords in your content to bring more traffic on your website, you need to stop doing that. You will notice a high drop in your traffic. Do not use a keyword more than 4-5 times in a page. Do not stuff irrelevant keywords in the content just to bring traffic. Keywords must go well with the context of your content and should be rightly placed.

Link building:

As we all know, Google analyses a site on the basis of back links. More are the good quality back links in your website, better are the chances of getting it on search engine result pages. When more sites link back to your website, Google authority views it more. The basic concept of Penguin Update is that website having irrelevant and spam back links it will go down page rank and will vanish away from the search engine results. Quality links are preferred over the quantity of back links.

Duplicate Content

: The websites having copied or duplicate content are to suffer the most after this penguin update. You can however never get good ranking in search engine if you are promoting the copied and plagiarized content. Remove copied content and post great and original content if you want to recover from Google's Penguin Update.
I hope that all this information about Penguin Update has helped you and you will take preventive actions to get away from the Google radar. If you still feel that your site is hit wrongly by the Penguin Update you can get in touch with the officials through the Penguin Feedback Forum.