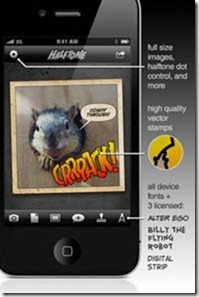 The new release of the special features for your iPhone now concerns the photography. All of us has at least once dream about a nice picture of the beloved one, and lost a lot of nice pics for the lack of proper focus. Same goes about any accidental shots you might want to get as well.
Also the modern society craves for the various photo designs, and that is what manufacturers took care of. The Halftone 1.6.5 offers a lot photo effects, including the popular vintage effects. Still the best feature about it is the brilliant face detecting system. It is also suitable for iOS 5.
Here you may resort not only to the standard effects, but also to the bright marks like getting the picture surrounded by balloons or getting the automatic position speech.
The very last updates offer also the brand new iOS 5 built-in Twitter. Its perfect functionality enables you to share you pics really fast with your friends and comrades. Feel free to post photos on Facebook, sent through e-mail or use any suitable printed with the function of an AirPrint.
The mentioned Halftone is able to share pics with various programs like Camera, Instagram, Color Splash, FX Photo Studio and any other link compatible with PhotoAppLink you find suitable. This way you may feel free to use all the variety of tools and effects to get the perfect image as the result.
Apple has considerably selected Halftone as the best application of the week; the results are valid for both Canada and the UK. Over 750 thousands users took part in the choice, offering the 4 ½ rating stars in the official App Store. This got the following application in the TOP100 of the photo-apps in the whole world.
The popular Halftone is much more then just a simple "photo filter' you might consider it to be. It offers a lot of vintage effects for your picture to get the look of the real old photo. For this over 25 versions of paper will be offered to your choice.
The countless layouts, balloons and speech effects are available. Here you will also get at least 25 stamps you can place over the picture. This include also the words of the sound effects and lot of shapes like coffee beans, bar codes, swooshes, explosions etc. The comic effect is within your easy reach now with the special comic fonts.
This is a guest post written by Svetlana T., who is a known person among the leading software programmers. Taking part in the various activities along with the java programmers as well, she is able to present the most popular tendencies of the digital iPhone world, and that's what she gladly does.
For more iPhone related stuff, head over to iTechApple, our brand new blog focussed on Everything Apple.