Apple has finally released iOS 5.0.1 which promises to fix a couple of issues on its Mobile OS which caused the battery drain issue reported by a large number of iPhone 4S users. This issue affected not just iPhone 4S users though, but anybody using iOS 5. Apple eventually figured out that there were bugs in iOS 5 that were causing the battery drainage.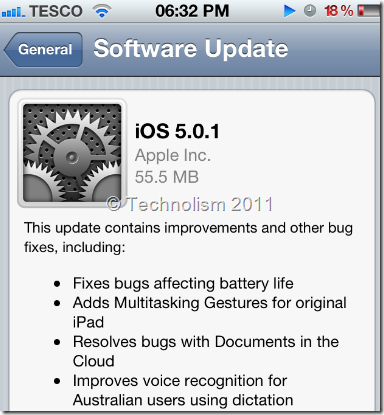 iPhone 4S was launched at the Apple Let's Talk iPhone event held in October this year and became available to the first set of countries on the 14th October, including UK. As I am currently in the UK, I was lucky enough to get my hands on to the latest iPhone 4S. We also covered the unboxing video of iPhone 4S at Technolism.
While using iPhone 4S, we noticed that iPhone 4S's battery was performing badly as compared to the iPhone 4. Initially, I thought that there might be some issue with the handset that we received, but soon came to know from Apple Forum discussion that there are a majority of users being affected by this issue.
Apple has now reportedly fixed this issue with iOS 5.0.1, the first update to iOS 5, which bought a bundle of new features to Apple's mobile OS like Notification centre, iMessages, Location based reminders, iCloud, Newsstand, Twitter integration, and is the first version of iOS to introduce Over-the-air software updates.
In addition to the battery drain fix, this update contains improvements and other bug fixes, including:
Multitasking Gestures for original iPad
Resolves bugs with Documents in the Cloud
Improves voice recognition for Australian users using dictation
Products compatible with this software update are iPhone 4S, iPhone 4, iPhone 3GS, iPad 2, iPad, iPod touch (4th generation), iPod touch (3rd generation).
So, upgrade your iOS device to the latest version iOS 5.0.1 by connecting to iTunes or directly via over-the-air iOS update feature in iOS5. Do let us know if you notice any improvements in the battery life with this update.