Some time back Facebook announced Places, a new way for people on Facebook to share where they are, see where their friends have checked in, and discover interesting places nearby.
For those who do not know what Facebook Places is, Places is a new Facebook feature that allows you to see where your friends are and share your location in the real world. When you use Places, you'll be able to see if any of your friends are currently checked in nearby and connect with them easily.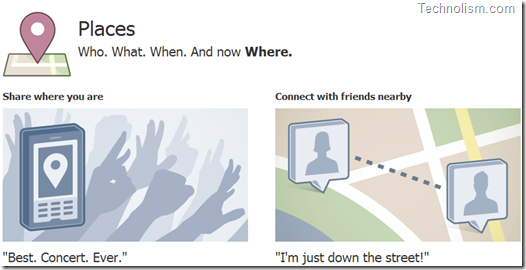 With Facebook Places, you will never miss another chance to connect when you happen to be in the same place at the same time. It is a great way for you to let your friends know in an easy way to come and hang out with you at a nearby park.
Some of the brilliant features of Places is that you can:
Check in and your update will appear on the Place page, your friends' News Feeds and your Wall.
Tag the friends you're with so they can be part of your update.
Appear in "Here now" to friends and others nearby who are also checked in.
Facebook team has released a video in which they talk about Facebook Places which will give you more idea about this service.
So, use Facebook Places to experience connecting with people on Facebook in a completely new way and start removing the walls between you and your friends!
Unfortunately, this new Facebook application is open only to  the United States residents with mobile access to the Facebook application for iPhone or touch.facebook.com. Places will be rolled out more broadly and to other mobile devices and the web in the future.
How are you using the Facebook places? Do share your views on the new thing from the house of Facebook 🙂
In the meanwhile you would like to Subscribe to our email updates to get the latest news about Facebook.