When I started the Facebook Page for Technolism, I wanted to invite all my friends to the page but unfortunately, Facebook does not provide the option to invite all the people in your friend list in one go which means you have to select your friends one by one and then invite all of them. This may lead to two things, either you do this time consuming process or end up not inviting your friends at all.
But, I did not want to do this for all my 500+ friends one by one by clicking some 500 times and also I did not want to end up not inviting them as Facebook can prove to be a major traffic driver for a blog. So, I turned to Google and came to know of a simple way to do this easily using a simple 3 step process. I thought of sharing the same here.
Go to the Facebook Fan Page to which you want to invite all your friends and follow the below 3 Simple step to send the invite in one go.

Step 1.
Click on the "Suggest to Friends" link displayed in the left section as shown in the image above.
This will open the below window:
Step 2:
Now go to the address bar of you browser (where you enter the website address like www.google.com). Copy one of the below scripts and paste in the address bar and Hit Enter.
Script 1: This script selects all of  your friends; irrespective of whether they have already joined that page or not.
javascript:elms=document.getElementById('friends').getElementsByTagName('li');for(var fid in elms){if(typeof elms[fid] === 'object'){fs.click(elms[fid]);}}

Script 2: This script selects only those friends of yours who have not already joined that particular Fan page, group or event.
javascript:fs.select_all();

On pressing enter, you will see that all your friends get selected. Please note that this may take some time depending upon the number friends in your list which may stop your browser to respond for some seconds. No need to worry. The script is doing its work and selecting all your friends for you.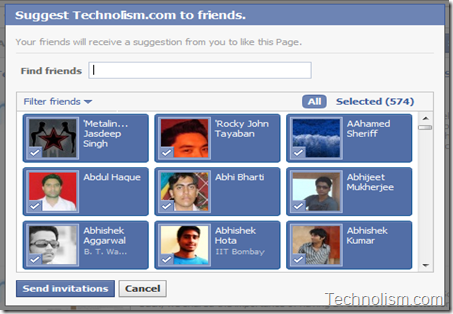 Step 3:
Click on the "Send Invitations" Button and you are done.

You can use the same process to invite all your friends for a Group or event. So, go on try one of these scripts to invite all your friends to the Technolism Facebook Fan Page now. 🙂
I hope that this tutorial helps you in making the most out of facebook. Do you follow some other technique to invite friends to facebook? Do share with us in the comments section below. In the meantime you would like to subscribe to our email updates.