Oscar winning music composer and everybody's favourite A.R. Rahman, launched the theme song of the Commonwealth Games with the performance of "Oh yaaro, yeh India bula liya" at an impressive ceremony.
"I feel honoured to get the opportunity to compose the theme song for the mega-event. It was not an easy task. I had started composing it six months ago and finished just last night," Rahman said.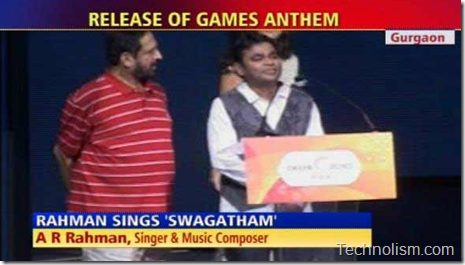 <Image Credit>
You can download or listen to the awesome piece of work from the God of Music below:
Rahman sung the song for around five minutes in front of a gathering which included some big shots like the Delhi Chief Minister Shiela Dikshit, Haryana CM Bhupinder Singh Hooda and CWG organising Committee Chairman Suresh Kalmadi.
Rahman passed a message to everyone by requesting all to do their best to show India in a positive light in front of the world.
Dikshit was all praise for Rahman, saying, "I am extremely happy that Rahman agreed to do the job. We could not have found a better person for it. I am confident that Delhi, with the whole India behind it, will achieve what many people believe is not possible."
"A well beginning is the half job done. Now onwards you will listen this song day in and day out. It is the first move towards a great Commonwealth Games, which we had promised years back," Kalmadi said.
We have to wait and watch if, inspite of the all the issues that we have been listening in the media around these games, is India really gonna rock in front of the world!!!