Finally, the experts predictions have proved correct. The Apple iPad 2 has been finally introduced by Steve Jobs. Almost all the features are exactly as we speculated here.
"We've gotten off to an exceptional first year. We'd like to build on that. What about 2011? Everyone's got a tablet. Will 2011 be the year of the copycat? If we did nothing, maybe a little bit… probably not." said Steve Jobs minutes back when he finally revealed the much anticipated iPad 2. "But we haven't been resting on our laurels. Today we're going to introduce iPad 2."
"What is iPad 2. What have we learned? It is an all new design. It's a completely new design. And it's dramatically faster. We have a new chip we call A5." Listing down the feature of the mighty device, Steve quoted 2011 as the "Year of iPad 2"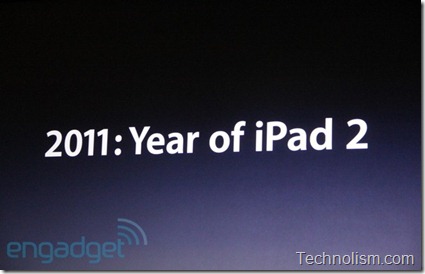 Below are the main features as introduced by Steve Jobs at the Apple event:
Apple A5 chip; Dual core CPU
Rear and front facing
Built in gyroscope like iPhone and iPod touch
Dramatically thinner, 33% thinner
Thinner than iPhone 4
Comes in two colors; Shipping white from day one
Models work with both AT&T and Verizon
10 hour battery life and one month of standby same as iPad 1
Same prices
This is a glimpse from the Apple Event at San Francisco, more to follow.
Update: Check out more articles on iPad 2 below:
iPad 2 Priced at $499, starts shipping in US from March 11
Image Credit – Engadget