iPhone! Who has not heard of it and who does not want it; it is on every geeks' wish list. A new version gets launched and soon after that rumour mills come into action and start speculating for the next generation product from the house of Apple. As soon as iPhone 4 was launched in June last year, experts have been predicting what is iPhone 5 going to have. We also shared with you an infograohic which summarises all the rumours for iPhone 5 features.
Now, with the rumour mills done their bit for predicting the features of iPhone 5, they are equally active in putting down the date for the iPhone 5 launch. According to a report from Reuters, Apple is all set to launch the next generation of iPhone in September this year, for which the production is due to start in July. The report also says that iPhone 5 will have a faster processor but will largely look similar to the iPhone 4.
Reuters also posted about this on their official Twitter account @Reuters.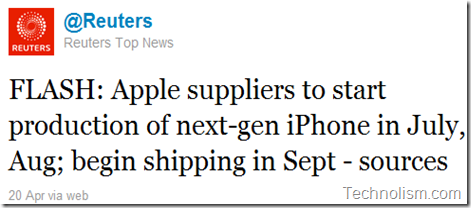 The iPhone is one of Apple's most successful products, with more than 16 million sold in the last quarter of 2010.
What do you think about the iPhone 5 launch? Is this delay from the normal June launch making you feel eager for the mighty device? Well, it is worth the wait. I am planning to upgrade, are you?