The domain registrars keep on coming with great offers from time to time and owing to these, you may be interested in transferring your domain name from one registrar to another. I registered one of our Movie related Blogs hosted with Dreamhost, which I had got free for one full year when I bought hosting space with them. (Go to Dreamhost and use Coupon code TLSAVE50 to get $50 discount on one year hosting and one domain name registration for free) Now, when one year got completed, I wanted to migrate to Godaddy.
There is nothing wrong with Dreamhost's service; its only that I want to manage all my domains at one place and I personally prefer Godaddy for that. Recently, I transferred one of my domains from Dreamhost to Godaddy. Below I have mentioned the whole procedure to be followed to successfully move to Godaddy from another domain provider.
Step 1: Enter Your Domain Name to be transferred
Go to this Godaddy link to initiate transfer. Enter the domain name that you want to transfer to Godaddy from some other registrar in the text box, shown below. Click on Go.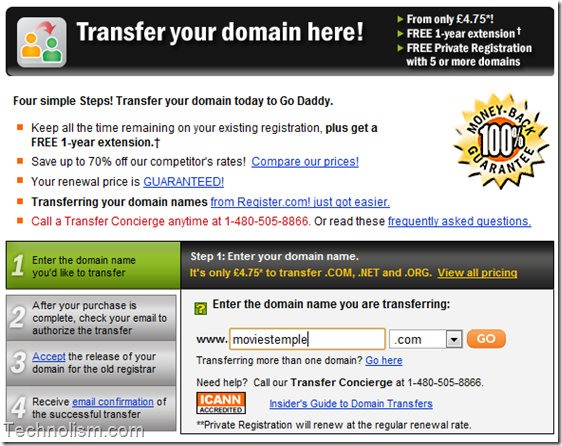 Once  you click on Go, the page will be reloaded with the information if the domain is available to transfer or not (shown below). Read this to know the reasons, the domain may be locked / not available for transfer. Click on "Checkout" button.
Step 2: Domain Settings
Make the selection on the page a below. If you are hosting your site on a host other than Godaddy, like in my case DreamHost, make sure you select the option for "Select Your Transfer Nameservers" as "Keep the existing nameservers on my transferring domain names as currently set at my domain registrar." This will make sure your site continues to be hosted with the same host provider and not park it with Godaddy. If your site is not hosted as of now and you are only parking it with the other registrar, you may consider selecting the second option.
Click on Next.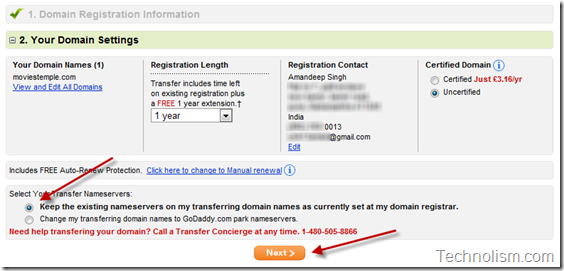 Step 3: Privacy and Domain Protection
Make the package selection and click on Next.
Step 4: Activate Your Domain
The next step is more of a cross selling marketing page by Godaddy. If you are not interesting in buying emails or hosting packages with them, simply click on Next.
Step 5: Checkout and Place Order

On the Payment details screen, select the payment method, enter payment details and click on "Place Order Now"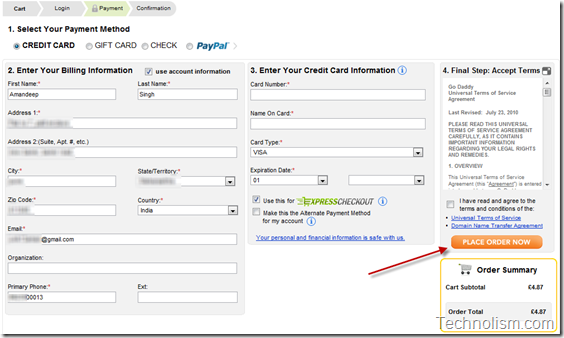 After you click on the Place Order Now button, your order will be processed and you will see a confirmation page.
Final Step: Email Authorization
After the above process is completed, you will get an email from Godaddy confirming that they have sent an email containing the instructions to authorize this transfer.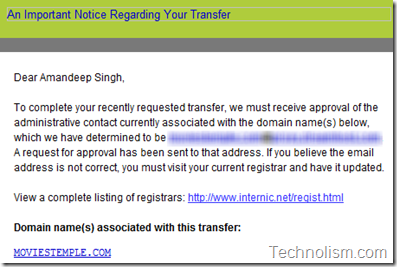 This email is as a precaution just in case the email address you have given with your current registrar is not valid, which happened in my case. If the email address mentioned in this mail is not correct, you need to correct it with your old registrar and reinitiate the transfer process, which I will be covering in a separate post.
If you have the correct email address, you will get the below email containing Transaction ID, Security Code and  the instructions to be followed to complete the transfer process. I will cover this in another post anyways. Stay tuned.
These FAQs may be of help to you
The above process is straight forward and quite easy to follow as I have tried to cover it in very details. If still you come across any issues, simply get in touch with me and I would be pleased to help you out with this.