By now, most of you tech fans may already know that Apple has called for its official event on March 02 in San Fransisco. This invite has put an end to one set of rumours and given rise to an entirely new set. This announcement from Apple has ignited a lot of speculation around the launch of iPad 2.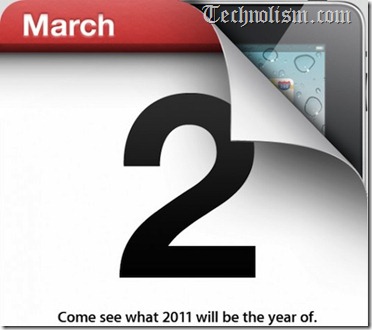 As you can see above, in the press  invitations that the Cupertino tech giant sent out features an iCal which shows March 2 as the date and the words "Come see what 2011 will be the year of." The iCal date is peeled on the top right corner to reveal an iPad. The invite alone more or less confirms that Apple will announce the iPad 2 next week.
Now, if you see the double meaning that this date itself has; the date is 02 March, experts say that iPad 2 will have 2 cameras, it is said to have a dual core processor, it will support 2 networks (GSM and CDMA), RAM is double than iPad 1. So many 2's there 😉
There is so much speculation going around about the expectations we can have from March 02. I am strongly in the squad who feel that Apple is going to reveal the iPad on March 02 and in this article, it is my turn to speculate on what you can expect on the March 02 and from the iPad 2. 😉
#1 Two Cameras (Front and Rear facing)
Since the first version of this mighty device was launched by Apple, people have been speculating about the iPad to have a camera. Experts say that iPad 2 will in fact have two cameras, front and rear facing with 5 and 2 Megapixels respectively to support FaceTime video calling.
#2 Better display (maybe Retina Display)
The Apple iPad 2 is expected to sport a "super high resolution". which is expected to be 2048 by 1536 (as compared to 1024 by 768 for iPad 1) There is a lot of speculation going on around this discussion by the experts that iPad 2 will have a Retina display like iPhone and iPod touch. While, on the other hand, some say that display upgrade is not going to be a part of this release.
#3 Faster processor and RAM
Apple iPad 2 is expected to have a faster processor Cortex A5, which is equivalent of dual core Nvidia Tegra 2 processor.
The next generation iPad is expected to have a bump in RAM also. The iPad 2 will have 512MB DRAM which is double the iPad (256MB DRAM)
#4 A New OS?
As per the claims from Engadget, Apple may even announce the next version of their Operating system iOS 5.0 (or, whatever they call it)
#5 iPad will get more Sexy (Atleast, I hope so ;))
iPad 2 is speculated to be slightly smaller and slightly thinner than its previous version. With enhanced display (if it gets that ;)), double the processor power, double the RAM, and video calling feature, iPad 2 is surely gonna be more sexy compared to its predecessor.
If its true that Apple is going to make the iPad 2 announcement on March 2, then they have really proved smart (well, they are!). Apple has strategically timed the launch date as Motorola Xoom tablet went on sale last Thursday. Considering this fact, imagine how many people must have put aside the thought of buying it just to see what Apple has to reveals on March 2.
Whatever it is that Apple has up its sleeve for the iPad 2, we will have to wait for another 2 days to see the actual revelations for March 2.
What do you expect from the Apple event on March 02 or the Apple iPad 2 launch, if we may call it 🙂