I recently joined the Apple family by becoming the proud owner of the latest iPhone 4. In my journey to keep exploring new and interesting stuff about iPhone; cool Apps, some tips and tricks, iPhone hacks, I came across some iPhone apps that allow you to make conference calls. One of the apps that I found on the App store which I thought cool enough to share with you is the PowWowNow iPhone App.
Powwownow is just the right iPhone app to make free conference calls fuss-free and efficient. With it, we can access mobile conference at no cost besides the call cost which would be part of your normal phone bill. You can schedule calls according to your need and convenience. The app makes sure that you do not miss any calls, for it allows you to set automatic call alerts.

Powwownow has a very clean and attractive looking interface that is easy to navigate. Using the app is not a hassle at all, with call conferencing as simple as just being a touch of a button away. It is a very useful service by the guys at Powwownow, and there is no excuse not to get it if you want stress-free conference calling. Share the app with fellow conference callers too and missed calls will become a thing of the past.
The first time you open the app, you'll have to register, which requires entering your email address and then verifying in your email account. Along the bottom, you can navigate between your scheduled conferences, your settings, and "Join Call," which allows you to join scheduled calls or manually enter a number for a call.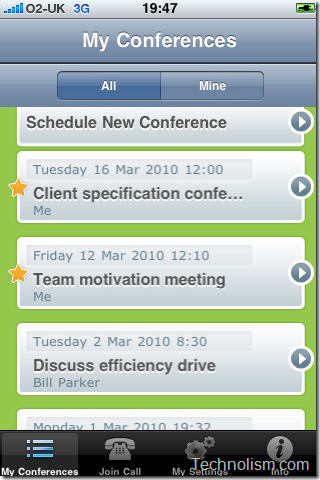 Promising excellent customer service and support, the app allows users to personalise the app specifically to you with the option to record calls, choose your own hold music and allows you to join ongoing conference calls at the touch of a button, as the Powwownow app automatically dials you in to the call and inputs your PIN, so you can focus on your work, and not have to waste time on less important things.
Below are some screenshots from the PowWowNow iPhone app. Have a look for yourself.
[nggallery id=2]
Final Verdict: This free application is really going to help the people who are truly on the go and still do not want to miss any opportunity in their work. If you're looking for a conference call app, the price is right on this one – I'd recommend checking it out.
What are you waiting for? Grab your App now 🙂