Every month we share our monthly traffic report to keep track of the progress we make. Last month when I shared the Monthly Traffic Report for the month of Feb 2011, the numbers were not too impressive as the traffic had a significant hit as compared to the traffic we received in the month of January. Also, February had only 28 days which added more to the gravitational force. (Well, that's an excuse!!)
Here, I am sharing the Monthly traffic report of Technolism for the month of March 2011. With this month's numbers, I am much relieved. The traffic has almost doubled for this month and as a fact of the matter, this is the best month for Technolism in terms of traffic and revenue till now, which makes me happy.
Lets' have a look at the stats for March now.
Traffic Stats Overview:

Visits: 15,913 (+86% over last month)
Page Views: 34,935 (+96% over last month)
The sharp rise you see on the March 02 is because of the coverage we did for for the March 02 Apple iPad launch event and the main traffic came to the article I posted for "10+ Online sources to get Apple iPad 2 (March 02) event live coverage"
Traffic Sources:
There has not been much difference in the trend of the Traffic sources for Technolism this month, though. Except for Yahoo organic traffic jumping up to number 5, the trend is almost similar with Google Search Engine still sending the maximum traffic.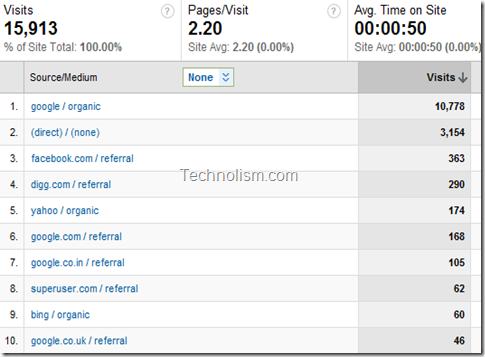 As you can see above, organic traffic from Google still leads the race which is a good sign for any blog, and makes me a bit satisfied with my SEO skills.
I took the Monthly Traffic for Feb 2011 as a challenge and tried to have good stats this month by increasing the frequency of updating the blog (though it is still not the way I want it to be!) and concentrate more on the SEO for each article. The results have been good so far. Lets see what April 2011 brings up.
How have the traffic stats been for this month. Do share with us your experience and mistakes you made, the lessons you learnt so that it may help the fellow bloggers.