Remember the Google's Gmail Motion April fool prank which we shared with you, this April Fool's day? It obviously was an April Fools' prank as you could see by visiting the page which Google had setup for its users.
In this prank, Google presented a dedicated application called Gmail Motion which uses your computer's built-in webcam to detect your movements and translate them into meaningful characters and commands. Read more here.
But now, this April Fool joke has become a reality, thanks to the folks from  MxR Lab at the Institute of Creative Technologies who have made this gesture driven Gmail experiment possible. The technology is called SLOOW – Software Library Optimizing Obligatory Waving – which can be used with a Microsoft Kinect sensor to control Gmail using the gestures in a similar way as described by Google.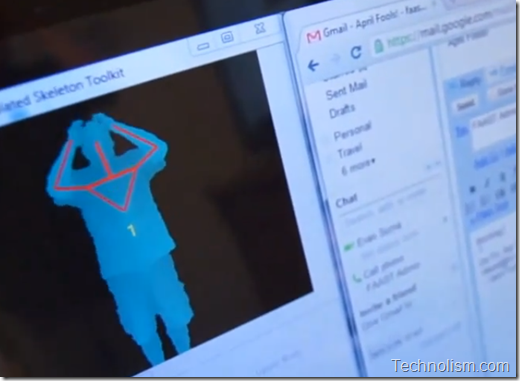 The same team used the technology, which is actually called Flexible Action and Articulated Skeleton Toolkit (FAAST), to play World of Warcraft using only body motions in December 2010.
This technology works pretty well as was intended by Google for Gmail motion. You can actually use the gestures like showing a Thumb in the back direction to reply to an email and even do an action of licking a stamp to send the email.
Have a look for yourself in the video below:
[via ict.usc.edu]
What do you think about this technology – SLOOW? Is this going to really help you as a end-user? Do share your views in the comments section below.