Nowadays, YouTube videos do not take much time to go viral. Be it some controversy, a mimic of a real being or some breaking news, it spreads like fire, thanks to Social Media. Last time, I shared a post compiling some nice and funny videos about FaceBook which was highly liked by our readers. This time I am going to share the most disliked videos on YouTube ever. So read on to read more interesting stuff.
Justin Bieber fans are not going to like this one much as there are 5 Justin Bieber videos on the Dislikes list. The #2 most disliked video on YouTube is Justin Biebers' Baby, with 1.2 million dislikes which is led by Rebecca Black's Friday with 1.7 million dislikes. Nathan Yau from FlowingData has created this infographic for reference. Have a look.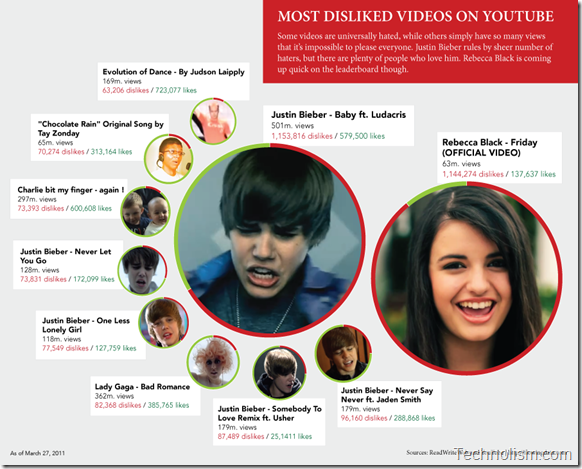 So, which video do you hate the most on YouTube.