Facebook is constantly changing ever since its initial launch in 2004 and it continues to go through facelifts. The newest update is probably the biggest and it is called Timeline. Your profile page layout completely changes, with one large picture at the top acting as a banner and the rest of your information (posts, pictures and statuses, etc.) reading like a cool website for yourself. You can go as far back as when you first logged on or to when you were born. Timeline acts almost as your life scrap book and is great for those who love to reminisce.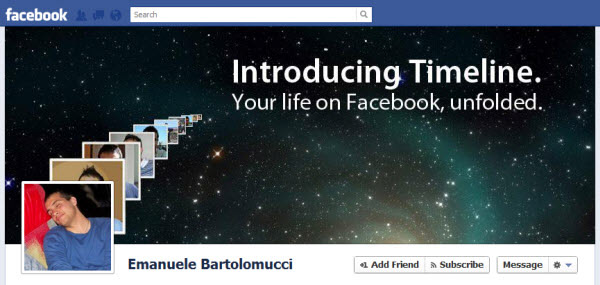 Initially Facebook Timeline was only made available to developers for which we wrote a tutorial in no time for you to get access to the Timelime before everybody else does. But recently, this Facebook feature has been made available to all and you can activate it as described below.
Getting started is really easy: type 'Timeline' into the search bar at the top of your home page. Feel free to watch the video to get a better idea what Timeline is all about. Click Get Timeline. Once you are here it's pretty easy to just follow the flow of the page to set it up how you want it. You will receive a message letting you know that your Timeline profile will not go live for 7 days so that you have time to perfect it.
Lets get started: Add a Cover
First things first add a cover; a cover is a large photo you choose to act as the banner of your profile page: You can choose from your Facebook photo albums any photo or upload a new one. Next step is to add your Life Events; this is what builds your timeline. You can do this by visiting the left side of your page under your banner picture where you can set your status. You are given these Life Event categories and sub categories to edit:
Work & Education
New Job
Retirement
New School
Study Abroad
Volunteer Work
Military Service
Other life event
Family & Relationships
First met
New relationship
Engagement
Marriage
New child
New family member
New pet
End of relationship
Loss of a loved one
Other life event
Home & Living
Moved
Bought a home
Home improvement
New roommate
New vehicle
Other life event
Health & Wellness
New eating habits
Weight loss
Glasses, contacts, other,
Broken bone,
Overcame an illness
Quit a habit
Other life event
Travel & Experiences
New hobby
New instrument
New language
Tattoo or piercing
New license
Travel
Achievement or award
Changed beliefs
First word, kiss, other
New sport
Other life event
Once you edit all of these you slowly start to see your life build before your eyes. You and friends are able to scroll through past years and enjoy memories. Now that you know how to get started, be prepared for your time to be taken up by this virtual scrapbooking. Embrace the new change and have fun with it, Happy Facebooking!
[Facebook Timeline Cover Credit]